Our History :
Traditional taste that goes back several generations, recipes that have been handed down as precious family heirlooms from one generation to another, a definitive will to bring good taste to a larger audience and an almost missionary zeal to create an everlasting imprint… the Bikanervala saga has the right admixture of all in equal parts.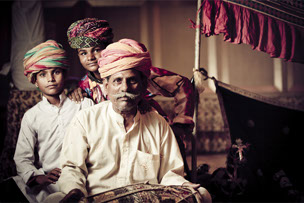 Fifty years ago, two intrepid sweet makers made the journey from their home town Bikaner to India's bustling capital city. They brought with them secrets of sweet making as their capital and an enthusiasm to present a very different culinary experience to the people who till now were exposed to very different kind of savories.
They started small with a shop in Old Delhi's Moti Bazaar. Soon, their unique taste of the Bhujiya and Moong Ki Daal Ka Halwa found many discerning patrons.
Their reputation spread like the effusive aroma of their delectable creations and slowly but surely Bikanervala grew into a name easily recalled and referred for every celebration or even a quick, satisfying snack.
The main ingredient of their success was the untiring work ethic and unwavering commitment to quality that the family blended so well with their traditional forte. In its own little way, Bikanervala has contributed to the culinary history of Delhi. Around thirty two years ago, they introduced the city to its first, delectable taste of kaju ki barfi – a sweet that is almost de rigueur for every celebration now. From Bikaner to the hearts and minds of people across India and the world. It has been a heart warming journey for Bikanervala. A sweet smell of success that will envelope many more in its fold, in times to come.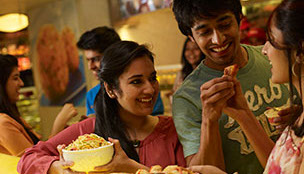 Our Vision & Concept :
Our vision is to promote India and Indian heritage, culture and cuisine worldwide. We are focused on customizing Indian Cuisine for a global audience.
Good taste takes time to develop. Exclusive recipes go through subtle evolution to become timeless classics. Tradition melds into modernity while still keeping its character intact. Bikanervala is the true essence of the coming together of a grand heritage with innovative energy.
It has taken over half a century of focused growth and driven purpose to transform Bikanervala from a traditional sweets & snacks maker to a brand universally recognized as a symbol of great quality and exceptional taste. Today, the 35 Bikanervala outlets spread across India are beacons of a fresh approach to eating out that combines the best of centuries-old recipes and modern technology.
Bikanervala outlets can be found in Delhi, UP, Haryana, Gujrat, & Andhra Pradesh,. Abroad, they have already spread the good cheer and taste ambassadorship to Nepal, UAE, New Zealand and Singapore.
Ranging from 5000 sq ft to 20000 sq ft, the outlets experience a footfall of 500-2000 people per day depending on the size and the location of the outlet.
All are welcome is the operating motto. Different times of the day cater to different people. Mornings are about breakfast for the office goers, lunches, evening brunches, all time snacks, dinner, desserts, chaats…the entire family can come in to eat and order their individual preference. In the mix are contemporary offerings like pizzas, burgers, noodles that appeal to the younger demographic while classics like chana bhatura, chaats and pani puri are more to the liking of the parents.
Business Model :
Hygiene, purity of ingredients, and totally vegetarian products are the core tenets by which the organization operates. Bikanervala has efficiently married the art of traditional cooking with the science of modern that reflects contemporary expectations.
Pepsi has partnered with the organization for its Indian namkeen product line- a recognition of the high standards the organization sets for itself. The organization is now scaling to create a global footprint and deliver the same great experience, quality of product and traditional panache to a world-wide audience.
For today's on the go life, the Group has pioneered 100 small chaat cafe outlets in Delhi NCR branded Bikano chaat café. In addition, the group has opened two fine dining restaurants in Hyderabad and Noida and a hotel in Hyderabad. It is purposefully focused on achieving its vision through hard work, commitment and a focus on making the world a happier place through food that is healthy and surprisingly tasty.